Tu Youyou: Artemisinin remains the drug of choice for malaria
Views:0 Author:Site Editor Publish Time: 2019-07-02 Origin:Site
"For a long time to come, artemisinin will remain the most effective antimalarial drug of choice."Researcher at the Chinese academy of traditional Chinese medicine for life, the nation's highest scientific award winner, winner of the Nobel Prize in physiology or medicine, Tu an exclusive interview with xinhua news agency disclosed recently, after many years, and with her team members in "artemisinin resistance" research so as to obtain the new breakthrough, and put forward reasonable plan.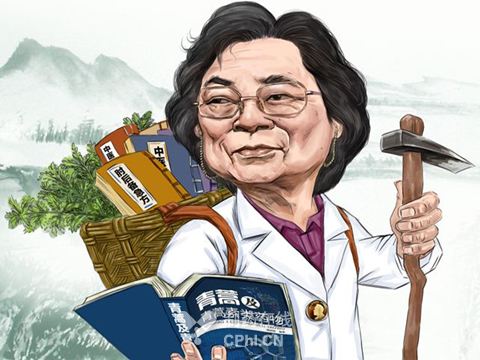 The world malaria report 2018, released by the world health organization, shows that the global fight against malaria has stalled.A number of studies have shown that artemisinin resistance has occurred to varying degrees in the greater Mekong sub-region and other regions.
"The so-called artemisinin-resistance problem can be solved by extending the duration of the drug or by changing the complementary drugs that have developed resistance in ACTS," he said.Tu told reporters that after more than three years of scientific research, her team has made new breakthroughs in "anti-malaria mechanism research", "causes of drug resistance" and "adjustment of treatment methods", and proposed reasonable treatment plans for "artemisinin resistance".
Over the past 20 years, artemisinin combination therapies have been widely used in malaria endemic areas around the world.According to who statistics, artemisinin has saved millions of lives worldwide and treated hundreds of millions of patients each year.
"Artemisinin antimalarials are cheap, cost a few dollars per course, and are suitable for the large number of poor people in Africa where the epidemic is concentrated."Tu said, "focusing on developing cheap artemisinin antimalarial drugs can help achieve the goal of eliminating malaria globally."
While tackling the "artemisinin resistance" problem, Tu Youyou's team also found that dihydroartemisinin has a unique effect on the treatment of high-variability lupus erythematosus."There is a trend toward artemisinin effectiveness in treating lupus, and we are cautiously optimistic that the trial will succeed."Tu said, "I hope artemisinin can play a greater role and benefit all mankind."
Meanwhile, artemisinin and other traditional Chinese medicine research works written by liao fulong, a member of Tu Youyou's team and a researcher at the Chinese academy of traditional Chinese medicine, are expected to be included in the upcoming international authoritative medical textbook Oxford medical textbook (sixth edition) for the first time.The industry believes that this will become an important practical result of TCM culture "going global".
"Traditional Chinese medicine is not unique to the Chinese people. It should play a bigger role in areas such as the silk road to health and provide Chinese wisdom, Chinese experience and Chinese solutions to the health of all mankind."Tu Youyou pointed out that the success of artemisinin shows that both traditional Chinese and western medicine have their respective strengths and should combine their strengths to play a role in building a community of Shared future for mankind.
Talking about her expectations for young people, Tu encouraged young researchers to stay true to their original aspiration, endure loneliness, and make more original innovations rather than academic impetuosity.
Tu Youyou, an octogenarian, is still on the front line of scientific research. Although suffering from pain and suffering, she still harbers the ambition of helping others."As a medical science and technology worker, is to serve the health of all mankind.""Tu said.